Printing (Computing Lab)
Printing (Computing Labs)
Printers/copiers are available in most NJIT public computing labs (Library, Student Mall, Weston Hall, GITC). Please be considerate of the environment when printing. Print only what is necessary and print double-sided when possible.
Printing (Release Your Job)
In order to print, you can either log in with your UCID login and password or swipe your NJIT student identification card using the card reader attached to the printer (this option requires you to activate your card). 
From a home screen you can choose to Print Release to print saved documents or Scan.

Print Release is used to print your documents. 
Scan is use to scan and send documents to your email.​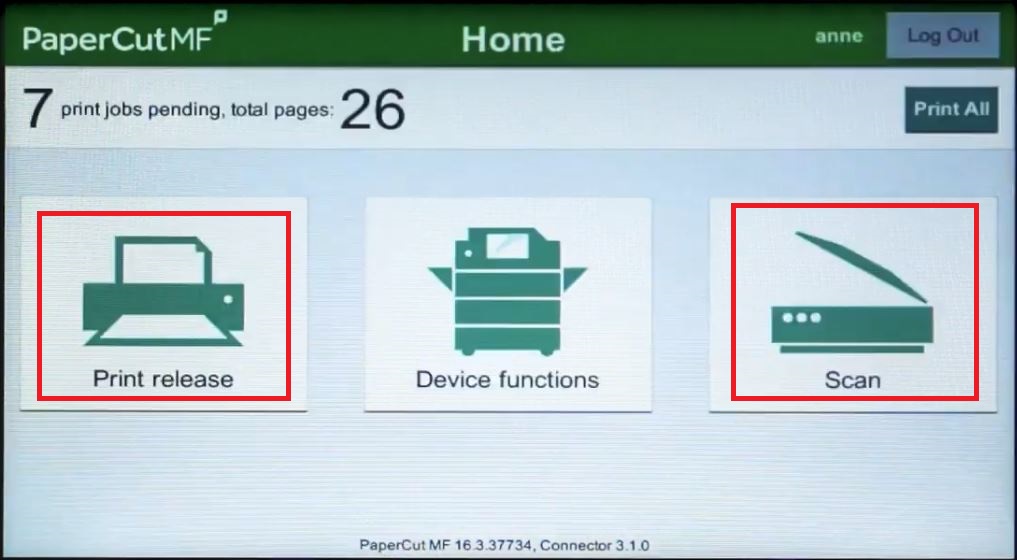 Activate your card
Students must swipe their NJIT student identification card at the copier before your document(s) will be "released" (printed): 
Swipe your student identification card in the card reader, attached to the printer.
Choose Yes to acknowledge that your NJIT photo card will be associated with your NJIT user account.
Type in your UCID and UCID password to associate your card with your NJIT account. 
You should see a dialog box with a confirmation. Confirm successful association.
You can now swipe your NJIT student identification card to print.
Printing from a mobile device (mobile phone, tablet or laptop)
Follow these 3 easy steps:
Attach a pdf document you want to print to an email sent from your official NJIT email address, (YOUR_UCID@NJIT.EDU). Send the email & attachment to: printrelease@njit.edu. Please note: files must be in the pdf file format and is limited to documents of 25 pages or less.
You will receive an automated email reply from pmon@njit.edu confirming that your document was received and containing a link that will put your document in the queue to be released. Click on that link to send you job to the printer. This link will remain active for 24 hours.
Go to a printer/copier and release your print job.
Printing with Google Cloud Print on Android Phones and Tablets
To print using Google Cloud Print:
After joining the NJITsecure wireless network download and install Google Cloud Print from the Google Play Store.
Go to Setting, Printing and turn on Google Cloud Print 
Login to the Google Chrome Browser with your NJIT UCID login (under Settings) 
Tap the Chrome menu and select Print.
Select PrintRelease from the drop down triangle and select PrintRelease (your_UCID@njit.edu).
Go to the printer and release your print job.
Printing with an iOS device
To print using AirPrint follow these steps:
After joining the NJITsecure wireless network open the item you would like to print. 
Find the Print option by tapping the app's share icon or settings icon and select print. 
Select Printrelease if not already selected and then press print.
Go to the printer and release your print job.